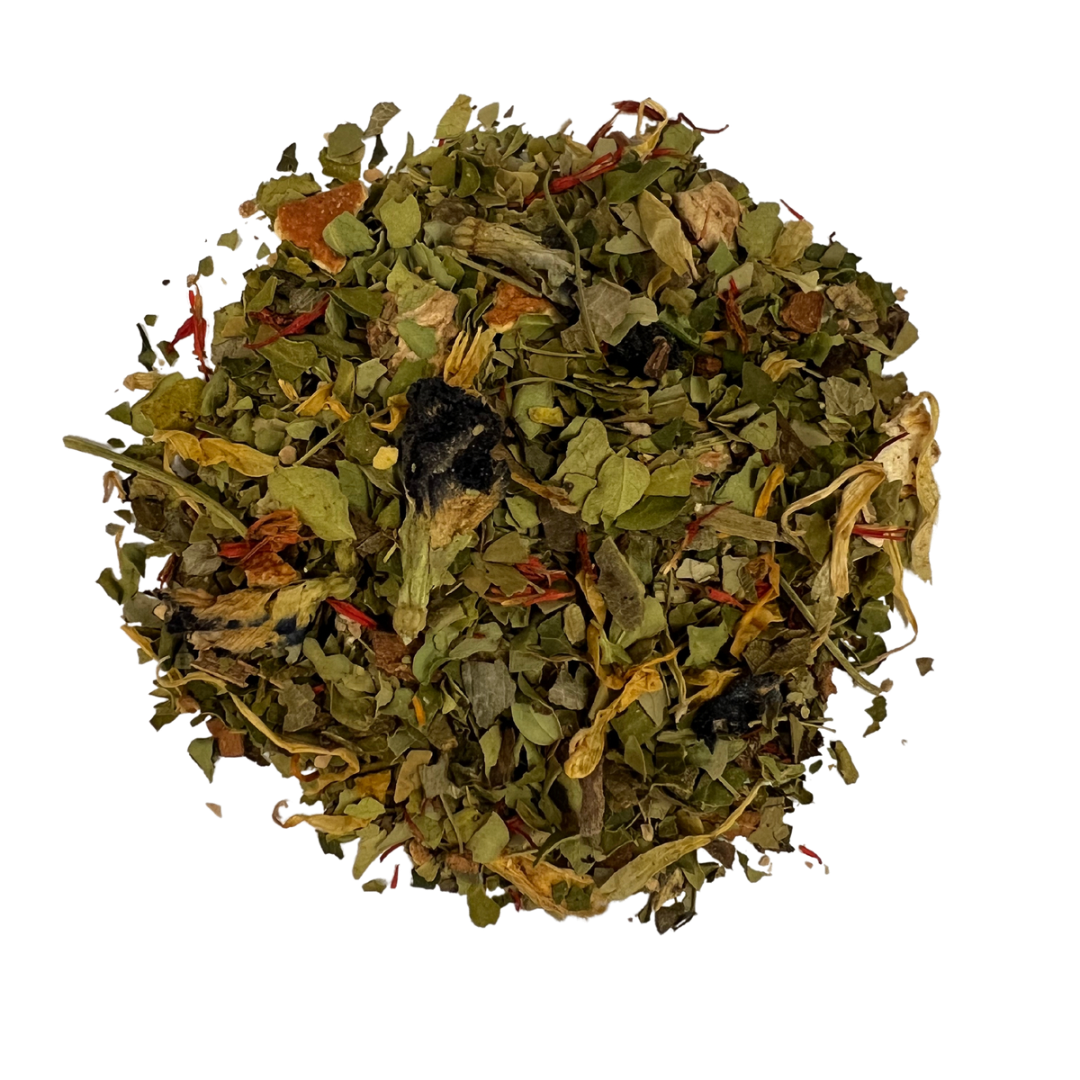 Description

SERVINGS

steeping
The perfect blend to energize your mind and body in a healthy and sustained way.  Mate and smooth moringa combined with citrus highlights and subtle notes of blue pea flower make for an energizing start to your day.
Mate, South America's famed herbal alternative and source of mateine - a compound made up of caffeine, theobromine, and theophylline, prized for its energizing effects. To this we've added Moringa, an antioxidant-rich herb said to lower blood pressure while delivering a healthy dose of Vitamin C. A bright burst of eye-opening cinnamon and orange citrus along with a combination of nutrient-rich leaves and flowers, including blue pea flower, thought by nutritionists to bolster the brain and physical stamina. This twist of citrus flavor perks up the tastebuds and the mind.
This lemony treat is delicious brewed hot or iced!
Caffeine Content: Medium 
INGREDIENTS:  Moringa, Mate, Lemon, Cinnamon, Orange, Strawberry leaves, Butterfly blue pea flowers, Safflower + Calendula Petals, Natural flavors (organic compliant).
 *These statements have not been evaluated by the FDA
Samples - 4-5 CUPS
1.5-3oz - 20-24 CUPS
3.2 OZ -6 OZ - 40- 45 CUPS
Black tea 3-5mins
Green tea 2-3mins
Oolong 2-3mins
White tea 2-3mins
Herbal Tea 3-5mins
Bright and sunshiny energy replacement to coffee!
I have been experimenting with other ways of getting my workday pick-me-up besides coffee, and I stumbled upon mate. I love the unique brand of wakefulness and focus this blend provides without the anxiety or jitters of coffee. The addition of the citrus gives a bright acidity and hint of cinnamon flavor warms up and rounds out the cup. The whimsical blue-green shade adds visual interest. Overall an amazing blend! I LOVE the citrus and cinnamon notes! Love love love!
My new favorite
This tea gives me an explosion of flavor with each sip. The color is a cool funky green when brewed. So happy it is caffeinated.
FAQ
How long does this tea last?
Our premium loose leaf teas last approximately one year when kept in a cool dry place when resealed properly.
How much tea do I need?
We recommend - 1.5 tsps of tea per 8 oz of water
Whats the best way to steep my tea?
We recommend using a stainless teel infuser or tea filters to enjoy a single cup of tea.
How many cups of tea can I enjoy from one teaspoon?
Because this is whole leaf tea you can get 2-3 cups of tea from the same leaves depending on the tea type.