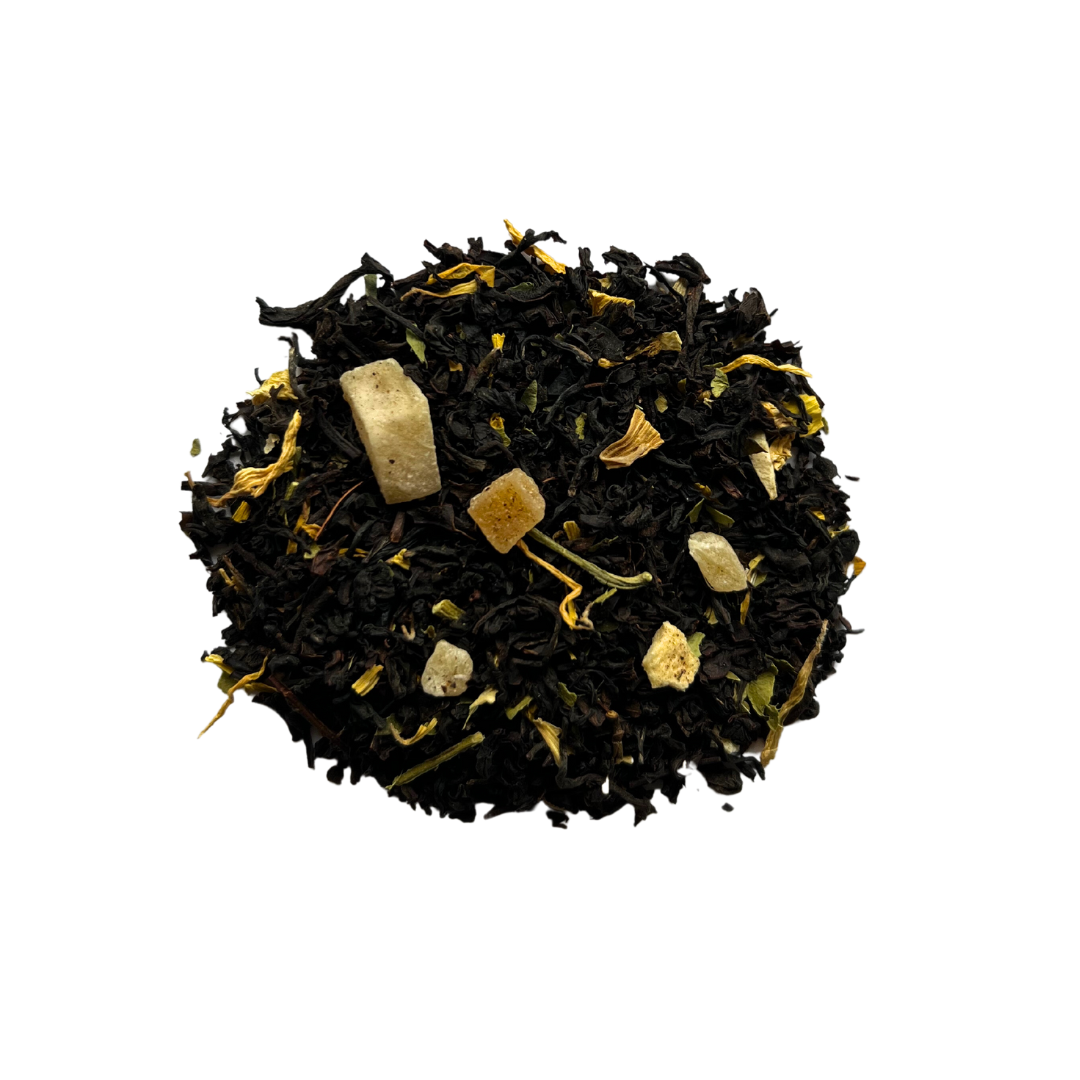 Description

SERVINGS

steeping
Walking outside of my grandmother's house the first thing we noticed was the smell of fresh mangos that have fallen from the nearby tree. We'd picked them up, carry them inside, and would have a great time together peeling and enjoying the taste of the treasured fruit.
Mango Mist is something you'll want to enjoy with friends, siblings, and even enemies. #stayirie
Crisp ripe mango with zesty lime makes a refreshing afternoon iced tea that can be enjoyed with lunch or dinner. With Ceylon black tea as its base "Mango Mist" balances traditional iced tea with a familiar island favorite and finishes clean and true to character. 
Caffeine Content: Medium Caffeine
INGREDIENTS: Black tea, Mango pieces, Lime leaves, Calendula + Sunflower petals, Natural flavors (Organic Compliant).


 *These statements have not been evaluated by the FDA
Samples - 4-5 CUPS
1.5-3oz - 20-24 CUPS
3.2 OZ -6 OZ - 40- 45 CUPS
Black tea 3-5mins
Green tea 2-3mins
Oolong 2-3mins
White tea 2-3mins
Herbal Tea 3-5mins
$3.50
Regular price
$5.00
Mango Mist is my favorite tea.
I bought a bag of 2 oz mango mist at Chicago Botanic Garden when The Iris Cup had a show booth there this summer. I was falling in love this tea when I had the first sip. I just bought 4 oz mango mist and 2 other caffeine-free tea recently. I love them all. I drink tea every morning and it brings me the energy and spirt. Thanks The Iris Cup for such good flavor and variety teas.
A Wonderful Gift!
My daughter seems to know that my favorite gifts are something I can eat or drink. She gave me a bag of this tea and a really nice tea strainer for my birthday. This is one of the most refreshing and delicious teas I've ever had. I love it iced and the mango flavor really comes through. No sweetener needed. It's perfect!
Delicious
This is so delicious. The mango is just right there on the first "note" of flavor and lingers through the rest of your drink! It does have some caffeine. So refreshing! It's a must for summertime iced tea!
Loose tea newbie
Just love it!!!! Wonderful taste and aroma.
Oh my goodness!
This tea is so yummy! I do not usually like black tea but this one with mango is the perfect taste. I drank it rather quickly. :)
Mango Mist
$3.50
Regular price
$5.00
FAQ
How long does this tea last?
Our premium loose leaf teas last approximately one year when kept in a cool dry place when resealed properly.
How much tea do I need?
We recommend - 1.5 tsps of tea per 8 oz of water
Whats the best way to steep my tea?
We recommend using a stainless teel infuser or tea filters to enjoy a single cup of tea.
How many cups of tea can I enjoy from one teaspoon?
Because this is whole leaf tea you can get 2-3 cups of tea from the same leaves depending on the tea type.